Geology
Table of Contents:
Looking for information on Volcanos? Then visit VOLCANO WORLD, a University of North Dakota site with lots of information and access (via email) to geologists. From this site, you can visit locations acoss the globe where active volcanos are found. This site is rich enough with images to provide a worthwhile experience for elementary students, while enough content exists for high school students to pay a visit!

The USGS has several excellent web sites. The link below will take you to REAL TIME Earthquake Data. The data is presented both in text and map form.

Studying VOLCANOES? Be sure to visit these Cascade Mountains sites. The first icon takes you to the Cascades Volcano Observatory. Here you will find information on the Cascade Mountains. There are links for educational outreach and volcanic hazards as well as continuous updates on the activity in this region. The second icon takes you to info specific to. Mt. St. Helens.

http://vulcan.wr.usgs.gov/home.html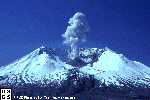 http://vulcan.wr.usgs.gov/Volcanoes/MSH/description_msh.html
Studying GEOLOGIC TIME? Visit the Berkeley Edu "Geologic Time Machine." Lots of images and good information!

Today's EARTHQUAKE Activity Around the World is a website with a wealth of current earthquake information. Tables, lists, and maps of global and national earthquake activity are linked to from here.

Link here for the elusive Geologic Map of New Jersey, provided courtesy of Rutgers University.
http://www-rci.rutgers.edu/~geolweb/geomap.html