Earth Science (and related natural sciences)...
Table of Contents:
NOAA provides links thru a "WINDandSEA" website to over 750 government and educational sites that contain relevant information on oceanic and atmospheric sciences. From this site, links can be made to other NOAA sites as well as current WEATHER information. An excellent EARTH SCIENCE resource. Click on the icon below to go directly to NOAA's home page otherwise, click on the url below for WINDandSEA.

Would you like to take your students on an interactive investigation of Antarctica? This multi-week highly acclaimed online educational site called BLUE ICE ANTARCTICA is geared for the middle school student.
http://www.onlineclass.com/BI/blueice.html
The EARTH and MOON VIEWER site displays outstanding views of the Earth in particular. Would you like to see a topographic map of the planet with a real time image depicting where its light out (that updates every minute!)? These maps are interactive in the sense that you can zoom in by selecting latitude and longitude data. You can also see weather satellite images and composite maps.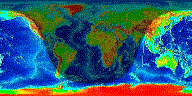 GREENPEACE has a website that provides information on all kinds of ENVIRONMENTAL issues. Students of EARTH SCIENCE, BIOLOGY, and ENVIRONMENTAL SCIENCE will find this site informative. This site can also be used as a starting point for critical analysis of the environmental issues that Greenpeace is involved with. While students should be encouraged to visit this site, they should also be encouraged to investigate all claims made by Greenpeace.
http://www.greenpeace.org/index.shtml
NASA's Observatorium "Learning without Touching" website is an introduction to Remote Sensing. Several links introduce the reader to Remote Sensing, apply remote sensing to satellite technology, and offer applications from Archaeology to Astronomy. Links to other remote sensing sites can be accessed from this site.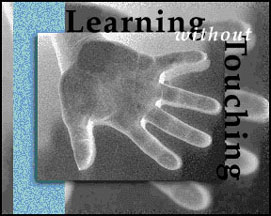 http://observe.ivv.nasa.gov/nasa/exhibits/learning/learning_0.html
To share an introductory thought as it appears on this site: NASA's Observatorium is a public access site for Earth and space data. We have pictures of the Earth, planets, stars, and other cool stuff, as well as the stories behind those images. Specifically, links to various earth science topics can be accessed from this site. These include Satellite Images, Plate Tectonics info, as well as physical science topics such as Centrifugal Force.

The NASA Mission to Planet Earth site provides links to an IMAGE gallery depicting a variety of the Earth's systems. Links to information specifically appropriate for students can be found here, as well as information about NASA and the study of the Earth's major systems.

The Real-Time Science Data Access Page offers access to data covering the following topics: Astronomy-Images of the Sun, Images of the Moon, Mars, the Earth, satellite locators, space shuttle locator. Meteorology-Live Weather Cams, Jet Stream Analysis, Tropical Storms, latest surface, satellite and radar images for the U.S. and the World. Oceanograpy-El Nino Watch, TOPEX sst's, wave heights, Gulf Stream. Geology-U.S. Earthquakes, Volcano data, California Seismograph. There are also links to Ozone data, AVHRR Images, Climate data, and images of the Universe.
http://www.math.montana.edu/~tslater/real-time/
Geographic Information Systems Links
ESRI, Environmental Systems Research Institute has developed ArcView GIS, a tool for use among professionals in the field as well as for educators in the classroom. Learn GIS and your students can be exposed to software that can enable them to better understand their physical world all the while learning a software tool that could lead to future job opportunities. The first link below is to ESRI's main web page. This page includes links to the variety of products that they make available as well as links appropriate for all users of this software.
The second link is specific to K-12 educators and librarians. This page provides tutorials for using ArcView GIS as well as teacher ready lessons designed to introduce this powerful software to your students. The software comes with a wealth of data, however, updates, such as recent earthquake data are available for download from this site. Much of the data is available for both PC and Macintosh platforms. Many other sites provide GIS data. Check back here for new links over time to add to your GIS library.
http://www.esri.com

http://www.esri.com/industries/k-12/material.html